Badoux, Raymond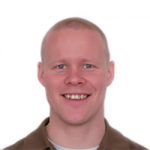 Meet Raymond, or "Ray" if you prefer. Born on September 9, 1980, Ray is a fun guy to have on your team. Friendly, helpful and always ready to cheer up his teammates. Quick with the jokes as he may be, he's also your most serious (not to mention downright fanatic) player. When he puts his mind to something, he gets the job done. When he enters a race, it's not for play. He competes. Ferociously. (Due to a lack of talent for running he doesn't always win, but it's the thought that counts right?)
This character trait carries over to his professional life. Ray doesn't accept anything less than sheer perfection. But hey, why hide behind this semi-modest third person prose? Let me just tell you what some of my (past) clients have to say about me:
"Ray has been absolutely brilliant to work with and we really cannot recommend him enough! Ray has been efficient, knowledgeable, patient, helpful, professional, a good communicator and extremely pleasant to deal with."
"All I can say is WOW. The templates he created for me were awesome. My team loves them and so do the customers. It is so much easier to create on the fly emails now and it all looks great."
"I can't thank Ray enough for his help in setting up my subscribe form, templates and RSS feeds. He took the time to understand what I needed and what he delivered is of a very high standard. His understanding of best practice well surpassed my expectations and I'm so happy with the final outcome."
"It is rare that I write a review without including the limitations of a contractor, but in this case there are no limitations to report. Ray can do it all, and even when he doesn't know the issue, he is so darn quick in finding out how to fix, change, or make it better."
Personally, I just can't get enough of this stuff. If you can't either, here's some more (scroll down to "Reviews").
Professional life
Even though my skill set is primarily email marketing related (design, coding, strategy), I'm no stranger to webdevelopment and API programming. I take on website jobs occasionally and I develop custom WordPress plugins every now and then – as long as time permits (see "Personal life" below). Feel free to reach out to me with any design or development need you may have though. I like to think I'm a hands on type of guy, so if there's a way to make something work, I'll find it!
Personal life
I got divorced at the end of 2016, I have a wonderful daughter and an amazing son. With my work and athletic life, that means "rest" and "time off" are unknown concepts around these parts. Fortunately I am hardly ever without energy, because my parents dropped a case of Red Bull in my crib when I was young. I wasn't able to say anything at the time, but I had a sitdown with my parents later on in life, in order to explain to them that even though the side effects may have been beneficiary, it was still an irresponsible thing to do.
Red Bull being dropped in my crib aside: I work from home, so I'm switching roles – father, contractor, Ray – often. Very often. In order to keep my sanity amidst a chaotic situation like that, I need some "me time" every now and then. Work keeps me in a chair behind a desk, so in order to compensate for a total lack of physical activity during business hours, I work out – a lot. The kind of workout will depend on the day / week / month / season / year, but it's usually (a mix of) running, swimming, biking, martial arts, obstacle running, yoga and / or crossfit. I take all of these things very seriously, so I maintain a rather intensive exercise regime. Moderation is a concept that I find very hard to implement.
Working with me
Others have already shed some light on what it's like to work with me. Allow me to add a few practical notes:
Even though I'm located in The Netherlands, I hardly ever experience any problems while scheduling appointments with people in other timezones. Mutual flexibility is key, and I am used to working at odd hours.
As of September 2016, my kids are at that (st)age where they will NOT let me work. Utter chaos. So whenever they're around, I'm in a different world entirely. This is mostly on the weekends though, so during the week I'm usually good to go.